The plan today was to head out to Mt Wellington, followed by lunch and Port Arthur visit.
Morning was free and as our planned departure to Mt Wellington was after 10am, we had time to squeeze in breaky and also a Hair appointment for Nita and Meeta. Ladies needed a hair recharge/refresh …not sure what the right term is, apparently the rain was making their hair hard to manage , I do not have a hair maintenance issue 😜 so hard for me to understand.
Doc & Tina wanted to take it easy this morning, so me, Nita, Cheeky and Meeta headed out early to to the Coffee/Breaky place near Salamance that we had seen busy on all days. Weather outside was great, we had sunshine and temparature was the standard 13-14 degrees , getting used to it now ;).
Instead of taking of water front route, this time I decided to take the city route and pass through some other areas – lucky we did that. After a good 10-15 walk, whilst we were making our way to Salamanca, we came across a very nice patisserie place – Daci Daci Bakers. It had the most amazing pastries and desserts! Had to stop there.
We chose to seat outside on the interesting seating area built onto the road itself – nothing like that could be allowed in Brisbane – QLD just seems so backwards with a lot of things, we are just a big nanny state :(.
Back to Daci Daci, we all ordered an Almond Crossiant, a Croque Monsier (fancy version of ham & cheese toastie), Mushroom & Chicken Pastry and coffees.
It was good to share it and not have a heavy breakfast. All the food was good and coffees were not too bad, not the best though – interestingly they did not have lactose free milk and only options were Soy or Almond :(.
Whilst enjoying the morning cool weather with this breakky, Doc jogged passed us – he is soo committed to running, a few mins chat and then he was off.
Finished here just before 9am – timing it to when hair saloons open, a quick walk to the mall area and we soon had Meeta & Nita in a saloon.
Not much else for me and Cheeky to do, already had a coffee, so just wondered about. Around 40 mins and the ladies were done. Made our way back to the hotel, Doc and Tina were already in the lobby ready – we all quickly got our stuff sorted and then it was time to head out.
Next stop – Mt Wellington – a 30 mins drive.
Was not long before we were driving up the steep incline of Mt Wellington. The weather was overcast which meant we did not have a clear sight of the top and had a lot of cloud cover higher up. It was only a few minutes of incline driving when we found ourselves driving through thick clouds or was it fog ?? Cloud or fog – it was getting thicker. Headlights were on and alertness level of Cheeky who was driving was on very high. On one side was the mountain rising and on the other was a massive drop… just have to stay in the middle. Slowlly we edged our way up and at times the clouds cleared entirely with clear visibility and sometimes it was so thick that visibility was only 5 meters or less.
At one point we pulled over as it seemed to dangerous to go up in these conditions, the place we pulled over deserved to have some pics taken…. time to get out my tripod for group pics.
Seeing more cars go up, and the clouds thinning, we decided to keep going up …. and it was definitely a good decision!
Reached the top, and wow, it was the most amazing rugged landscape with shear of clouds. Between the waves of clouds that blanketted this amazing landscape, we could make out these great mountain lines and falls.
The cloud sheers gave it a different feel – so glad we could experience that.
Light rain started , time to make our way back to the car and head down. Going below the cloud cover, weather was clear again – we found a great vantage point just below the cloud cover with views over Hobart. Weird, now the skys were clear blue on this side !!
Mt Wellington done ✅, now to make our way to lunch booked by Doc at Seagrass Long Point. Drive time was just under 20 mins.
Seagrass Long Point, was directly next to the water, in a quiet beautiful surrounding.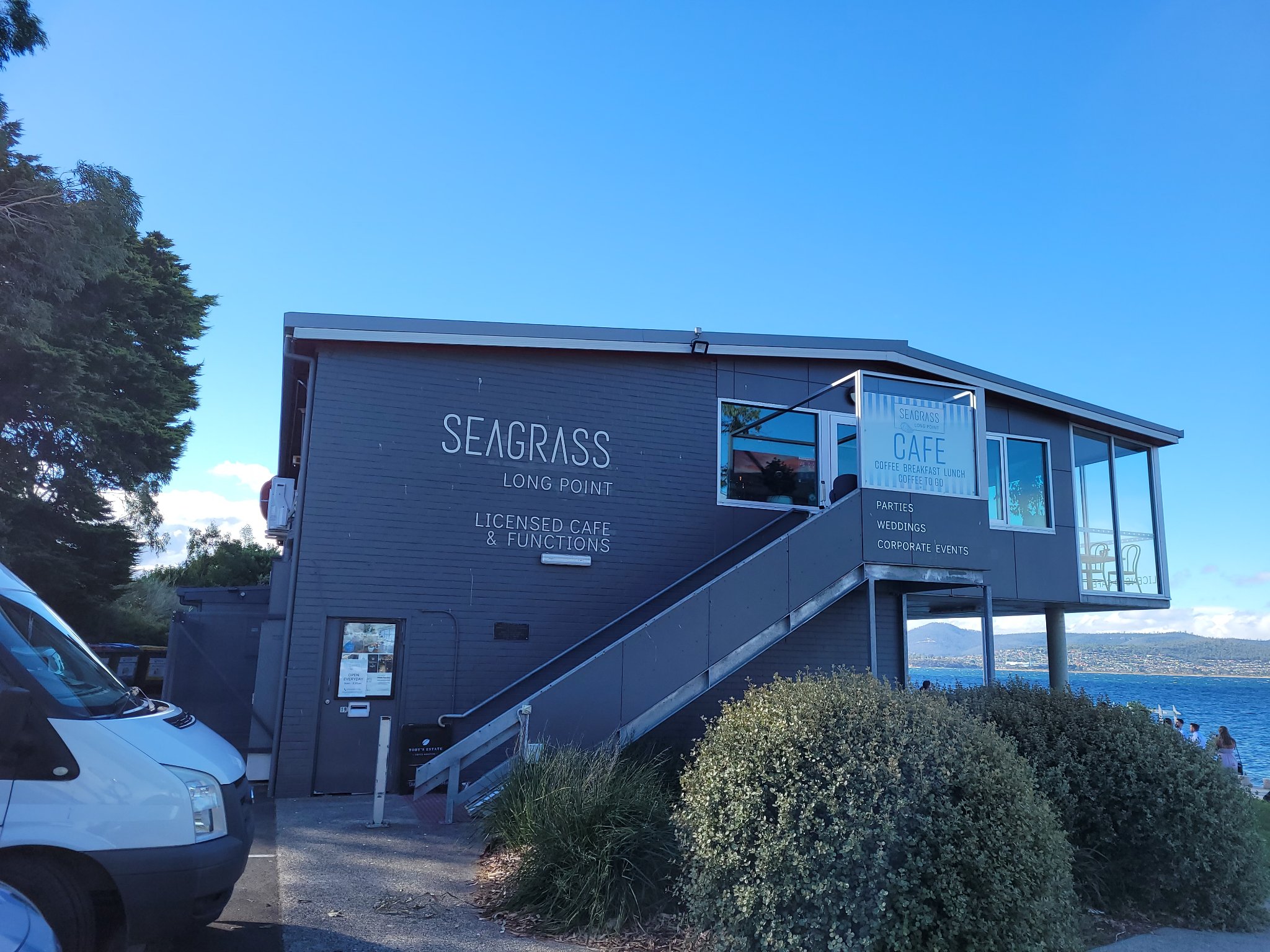 Very nice lookout from here, the place was empty for lunch – maybe it is more a dinner place ??. Ordered a chowder to share and then some burgers. Not in the mood for any alcohol for lunch, most of the gang ordered a coffee. Nita opted for the Tumeric latte, I settled for my sparkling water. The Tumeric latte did look good but unfortunately the taste was a let down.
The burgers arrived but we were surprised to see the buns in charcoal colour !!! Hmmm interesting.
The flavour itself was not too bad, but it just was not that appetising 😦
Not the best lunch but we did get great views. Lunch done, it was almost 2 pm, now to make the long drive to Port Arthur. (Port Arthur was not on our plans, however as we had this free afternoon, we decided to complete that).
Back in the car, time for another long car ride with music and laughs.
Around 3:15pm we reached Port Arthur, the site cloes at 5pm, and the carpark had a big sign that boom gates would close at 5, not sure which part would close but not wanting to be stuck here overnight, we quickly moved through the gates and into the Port Arthur site.
The place beyond the gates was very nice, so picturesque! Could not believe this place was once a jail for convicts, where the worst criminals were brought over.
We wondered around the place, a few interesting places and some great locations of pics.
So much history at this place and it does make you wonder how people lived in those days. Cells were so small, less than a meter wide – unimaginable conditions!!
Port Arthur done, it was time to head back to Hobart, our Dinner was booked for 7pm – we still had enough time to pay the Bellerive Oval a visit along the way.
Saw the famouse Bellerive Oval and got a glimpse of the Ricky Ponting stand. We had not been inside the stadium but this was not bad.
That done, and it was only 6pm, headed out to a nearby waterfront marina we had seen earlier along they way to Bellerive – maybe we could do drinks there.
Getting there, it was not that great for drinks but there is always chance for more pics!!
Time for dinner, next stop was Pancho Villa, mexican!
Drive time was only about 10 mins – this place was just on the outskirts of the City area – so definitely no walking from our hotel.
It was in a street that closely resembled what we have in Paddington back in Brisbane – line of shops / restaurants on both sides in a suburban place. Nice area, and definitely more restaurants / bars to try here – if only we had more time.
Place inside was very different, not the expected Mexican theme, infact this place was more like a mix between Middle East & Europe theme – but very nice.
The cocktail menu looked great, no more G&T, it was going to be aonly Cocktails tonight. Nita volunteered to be the designated driver – needed someone to drive us back!
Few cocktail varieties were ordered, these came in interesting glasses or containers … the drinks were super!! Food followed and it was all goobled up quickly – everyone was soo hungry. Taste wise it was very good!! As for what we ordered, I am not sure – but it was all very nice!!
A great evening it was, Nita drove us back to the hotel. Called it an early night, tomorrow the plan was to cover Brunny island – our final list item.