Early morning start – Doc had convinced us to go for a run – he was doing it everymorning.
Met him at the lobby at 5:50am, Vikash had already left as he thought me and Doc slept in – due to no response to his msg's.
Started our jog towards the waterfront side and made our way towards Salamanca area. This was my first time jogging after a long long time, so a couple of walking breaks were needed. Towards Salamanca we met Vik who was returning back. He joined us and went for another round.
At this hour, the place is so quiet, peacful and calm. Headed to the Elizabeth Mall area and then tried a couple of coffee shops for a morning coffee, unfortunately all of them were still not open asking us to come back at 6:30 or 7am. We headed back to the hotel where the hotel cafe was able to get us our morning Picolo's. The 3 of us sat in the lobby coffee area and chatted for a while, then it was back in to the rooms to be down again for 8:15 departure.
All met at the alleyway coffee shop for a quick bite and coffee, then it was to the carpark at around 8:15am. Doc was driving today.
First stop was the Freycinet mountains, weather unfortunately was not looking too good but hoping that it cleared by the time we reached there , which was still a good 2.5 – 3 hours away.
The seating was Doc and Vik in front, me and Nita in middle and Tina and Meeta at the back. I was navigating plus being the spotify DJ taking in requests from everyone.
It was entertainment plus, with numerous stories to talk about ;), the minutes cut away and we made some quick photo stops.
Along the way, we passed through some dense trees on either side that made the passage of road very scenic and ideal for a photo opportunity – Vik was the first to call this out and we stopped to take pics on the road – obviously trying to do so when no cars where coming. That in itself was interesting and fun, whilst someone was posing the others had to keep an eye on the road and yell run away if cars were approaching. More often than not, there were a lot of too early warnings and we were running when we had more time. Setting up the tripod, we managed to get some good group shots
Next we stopped at the Devils Corner Vineyard – this was a highly recommended spot by Prakash Morris. It did look so good and had it not been for our lunch booked at Lobster Shack @ 1pm this would have been the ideal stop for lunch and wine.
Quick visit of the place and pics then it was on the road again.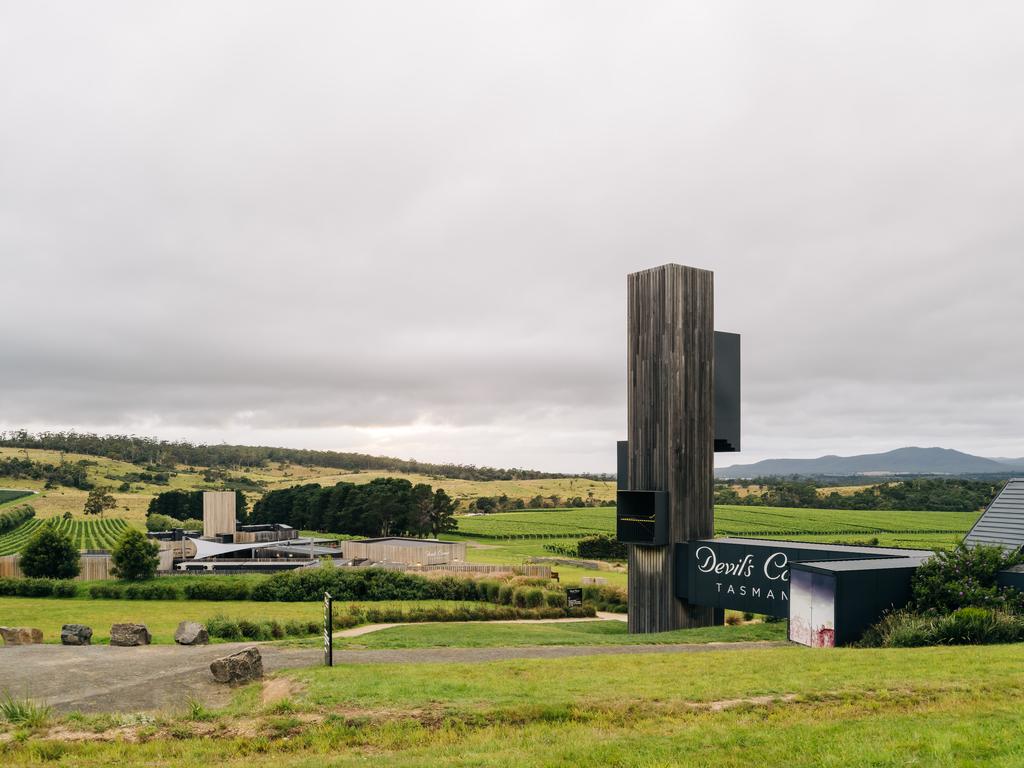 Weather was still on/off grizzling when we arrived at Freycinet, but what we had not anticipated was that this place was a hike – all along we thought it was a viewing area where we would get a great lookout of the wine glass bay area and the freycinet mountains. Hmmmm, none of us where actually prepared for hiking , but what the hell, lets do the walk – we did come so far.
It was a nice walk, however the overcast weather did not help with the views. Still it was a good visit, now back in the car, next stop was Lobster Shack. Enroute to that, I was using the cars vents to dry up my now wet shirt :(. Lucky I had a Jacket in the car, which was my temp top whilst my shirt was being dried.
We arrived at Lobster Shack not knowing what to expect. This place is located in the most amazing location!! Wow!
Ordered a couple of lobster varities, the mixed platter and Salmon. Wow the food here was amazing. Good feed and break, Lobster Shack is a must visit place if you love your seafood.
Back in the car, now to make our way back to Hobart via the Lark Distillery which had recently opened the Lark Whiskey Village (thanks to Nilan Gandhi for sharing that article with us)
Another 2.5 hours in the car.
The Lark Whiskey village closes at 5pm, it was just past 4 when we arrived. The place has been setup really nicely, love the colonial, vintage setting. It was good being this late, no one else was there and we could talk more about the Whiskeys and Gin they had. Time to try some of their varieties.
Some interesting Whiskey flavours but nothing outstanding, it did not get any of our votes.
Next up we tried their Gins, which was better, the best one was with Grapefruit – did not realise that went with Gins. Another tip, the amount of tonic should be very low and only enough to release the flavours.
And to finish it off, we had to try the $2500 Whiskey.
It was $100 a tasting nib, the three of us agreed to share that rather than one each. As part of getting that, they also offered a complimentary taste of their $400 bottle of Boiler edition.
Tasting done, thanked them and time to pay for this expensive tasting experience !!
Now to take some pics around the beautiful place!!
Pics done, we headed back to our Hotel, time for a quick freshesn up and then it was off to The Den Bar @ Salamanca for drinks followed by dinner at Franks.
The Den has one of the best setups/ambience – a big fireplace in the middle and dimely lit interior. We got a nice table at the back. Ordered 3 chicken Bao & 3 Spiced fried Cauliflower Bao + a round of gyoza. For drinks, ladies ordered coktails and Nita settled for a Shiraz. The guys ordered Gin – Cheeky mentioned to the bar men how we liked three cuts, he suggested we should try Spring Bay Gin, went with that.
The Gin was really good, Tasmanian Gin just seems to be better than the rest! Ladies cocktails were just as good and Shiraz hit the spot – no complains on drinks at all. Food arrived, whilst the Gyoza was good but nothing fantastic, the Bao's were mind blowing, this would be the best Bao's we have had for a long time. Had we not already had a dinner booking, I would have settled for another couple of rounds of Bao's – these things were amazing!!! 5 star rating to this place. I would highly recommend coming here for drinks and food.
Next stop for Dinner was at Frank's at the Waterfront. Our table was ready. The place had a very modern ambience with dark lighting – looked very nice. Ordered three mains and a couple of sides – we were not super hungry due to the Bao's. For drinks, the guys opted for 3 margaritas whilst ladies already had enough but opted for a Rose mary burnt cocktail – delicious it was. Food was to Tasmanian standard, very good, and the sweet potatoe side was mind blowing. Great food. For dessert we were not too sold on the menu here and started thinking about the Drunken Admiral Belgium Chocolate….. hmmm it was not too far, so we decided to head there for dessert. It was so funny, leaving Franks, the guy finalising our bill said he had never seen a table of 6 eat and clear away in under an hour – we did not want to tell him it was cause we were rushing to get to Drunken Admiral for desserts
Quick 5-10 min walk across the waterways to Drunken Admiral.
Along the way, I was able to get a great pic of the Hobart harbourside, with both the Drunken Admiral and Grand Chancellor Hotel in view. Not a bad iphone photo!
Got to Drunken Admiral and the wait staff was the same from the prior day and was surprised to see us close to 9pm there. We got the same table and 2 Belgium Chocolate brownies arrived soon after.
My god, this chocolate dessert is the best in the world!!! So yumm!!!
Called it a night, it had been a long fun day.